Annual Campaign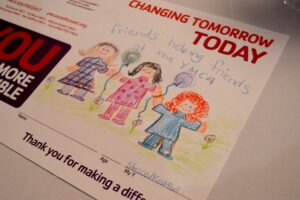 YMCA Southcoast is a mission-driven organization dedicated to improving the well-being of the entire community. In an effort to include everyone at the Y, we offer YCares Scholarships to families and individuals in need. Approximately 4,000 individuals at YMCA Southcoast's 6 branches receive direct aid each year towards membership, programs, childcare and camp through YCares Scholarships. This assistance helps keep doors open to everyone.
YCares Scholarships is funded through the Annual Campaign at YMCA Southcoast. This fund is supported by donations from individuals and businesses in our community who believe in our mission to include everyone. 100% of every donation helps young people achieve their potential, empower people of all ages to lead healthier lives, and strengthen the bonds of our Southcoast community.
Our inclusiveness is one of the things that make the Y special. Without the generosity of the community, YMCA Southcoast would not be able to meet the needs in our community. We are so grateful to our supporters for being such an important part of who we are.
YMCA Southcoast is a non-profit charity that has been serving the community for over 160 years. YMCA Southcoast includes six branches located along the south coast of Massachusetts, including Wareham, Mattapoisett, New Bedford, Dartmouth, Swansea, and Fall River.
Thank you for your support!.