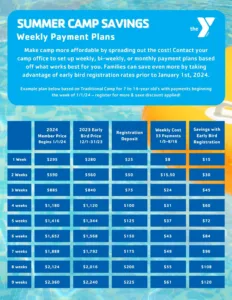 Please complete and submit the form(s) above (camp registration & financial assistance if applicable) to your camp director. To find camp director contact information, please see camp pages listed below and click the camp of your choice.
YMCA Southcoast has been a leading provider of quality day camp programs for over more than 50 years. We pride ourselves on the quality, character, and caliber of our well-trained camp staff. Our day camp directors have a combined total of 25+ years of camp leadership experience. Our counselors and program specialists are carefully selected based on their maturity and proven ability to be positive role models for your child(ren). These counsellors and program specialists are not only skilled, but each has a sincere and specific desire to work with, support, and guide children.
We, at YMCA Southcoast are here to help you in selecting the right camp for your child(ren). We welcome you to visit any or all of our 6 day campsites and talk directly with our camp directors and staff. We are confident that by visiting our camps, you'll feel the sense of security that comes with knowing that while you are hard at work, your children will be spending their summer days learning, growing and having fun under the watchful and nurturing eyes of our dedicated camp staff.
YMCA Southcoast Summer Day Camp Locations