FALL RIVER AQUATICS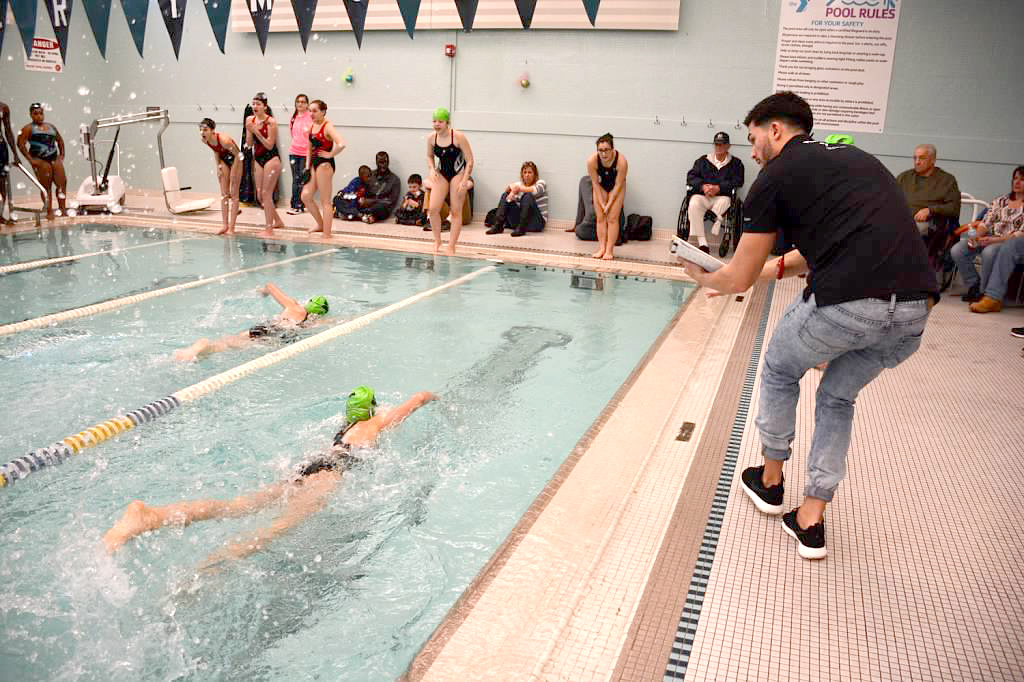 SWIM PROGRAMS – PARENT/CHILD, PRESCHOOL, YOUTH & ADULT
The Y offers a wide range of swimming options for the whole family including:
Traditional learn to swim classes for all ages

Private & semi-private swim lessons

Swim team

Aquatic exercise classes

Family swim

Independent exercise

Lap swim
The pool is fun for everyone with a variety of classes and swimming opportunities to fit everyone's needs.  
The Y Aquatic programs are positive, fun, healthy activities that build athletic, social and interpersonal skills.  Swimming builds self-confidence and develops the whole person – spirit, mind and body.  Instructional swim classes are divided into ability groups where our trained instructors emphasize personal safety, swimming skills, endurance and social skills while guiding students with praise and encouragement. 
The Fall River YMCA has a four-lane, 25-yard indoor pool that is an inclusive space for everyone, regardless of their swimming abilities.  
For more information, please contact Jeremy Leal, our Aquatic Director, at 508.675.7841 x125 or jleal@ymcasc.org.  
Please see our pool schedule for availability. 
LIGHTNING SWIM TEAM
We are also the home of the Fall River Lightning swim team, which has been very successful recently.   Combining the environment of a great training facility, experienced coaching staff, supportive parents and hard working swimmers, our Fall River YMCA Lightning Swim Team is living their motto everyday: EVERYONE SWIMS, EVERYONE WINS!
Over the course of the season, swimmers will have ample opportunity to increase their mental, physical and emotional abilities, that will carry over into their daily lives out of the swimming pool. As a member of this cohesive group, swimmers will develop social skills that will last a lifetime. Team members will also experience successes that in turn will foster increased self-esteem.
For more information, please contact Kayln Sardinha (Head Swim Team Coach) at 508.675.7841 x125 or ksardinha@ymcasc.org.
POOL SAFETY GUIDELINES
Shower Required – 

All users must shower prior to pool usage and their reservation time clearly states that check-in time, shower on the front end, and departure must be within that allotted time frame.

 

No Equipment Allowed – 

Swimmers are not allowed to bring any equipment with them onto the pool deck beyond a USCG PFD for non-swimmers. NO noodles, balls, dive toys, float toys, etc. will be allowed. Kickboards and other swimming devices are allowed during lap swim only.

 

No Street Clothes – 

Proper swimwear is required in order to enter the pool.

 

No Food Allowed – 

Per sanitization regulations, no food or glass bottles are allowed on deck. 

 

Age Requirements – 

Swimmers 7 years of age and younger need an adult in the pool with them at all times, with the exception of during swim lessons. Swimmers 12 and under need to be under an adult's supervision while in the pool.

 
Address
199 N Main Street, Fall River, MA 02720
Facility Hours
Mon-Fri: 5am-9pm
Sat: 7am-4pm
Sun: 9am-1pm
Holiday Hours
4th of July: CLOSED
Labor Day: CLOSED
Thanksgiving Day: 7am-11am
Christmas Eve: 7am - 12pm
Christmas Day: CLOSED
December 26th: Regular Hours - Child Care CLOSED
New Year's Eve: 7am - 12pm
New Year's Day: CLOSED
January 2nd: Regular Hours - Child Care CLOSED
Phone
​508.675.7841